---
Months after having our first daughter we were floundering...
We had big decisions to make, too many options, too many voices, and too little clarity. We needed something concrete that outlined our convictions so we could quickly find clarity in times in times of confusion.
So, we crafted our first Frederick Family Vision Statement and haven't looked back since! This page is dedicated to helping you understand and write a Family Vision Statement of your own.
94%
do not have a written mission statement
Only 1 in 20 families have a mission statement and core values written down that they reference at least once per year.
---
Having a vision for your family isn't just a practical idea, it's a biblical one.
Count our days (Psalm 90:12)

Live wisely (Ephesians 5:15)

Make the best use of the time (Colossians 4:5)

Think soberly of ourselves and our lives (Romans 12:3)
So, while God's Word guides and the Holy Spirit counsels, we recognized our need to think circumspectly and wisely about the decisions we were facing.
We also saw Scripture gives us a precedent for writing the vision down somewhere so it can be referenced quickly in times of uncertainty or forgetfulness (Hab 2:2).
---
Start writing your own Family Vision Statement.
Download the Guide
"Look carefully then how you walk, not as unwise but as wise, making the best use of the time, because the days are evil. Therefore do not be foolish, but understand what the will of the Lord is.'"
---
1. Mission Statement
Your mission statement describes why you exist as a family as succinctly possible with specific, action-oriented, and enlivening language. This is your rally point!
2. Core Values
The Core Values section is a list of terms and descriptions that describe who you are and what you care about intrinsically. They're not traits you aspire to exhibit, they're descriptors of how you're already wired.
3. Envision Statements
Your family's Envision Statements are one-liners that cast a compelling picture of what will happen, or what you hope to see happen, as a result of living out your mission and values.
---
Download the FREE ebook
"...think with sober judgment, each according to the measure of faith that God has assigned."
---
We experienced these three big benefits after crafting our Family Vision Statement:
1. Unity
Many couples agree on the problem to be solved without unity about how they solve them. Even with a common enemy, we work against one another if we're not attacking from a unified front. This creates 'friendly fire' between spouses.
2. Clarity
Big decisions and life transitions rarely simple. Conflicting desires can make it hard to discern the very best choices. Having a solid Family Vision Statement helps give us clarity even amidst an abundance of emotions, choices, and voices.
3. Utility
Having a pre-discussed, pre-written framework is just plain useful for guiding big decisions or navigating murky transitions.
It is not a silver bullet for every tough decision, but it can help you avoid repetitive arguments or wasting time going in unsustainable directions.
Get Started
And the Lord answered me:'Write the vision;make it plain on tablets,so he may run who reads it.'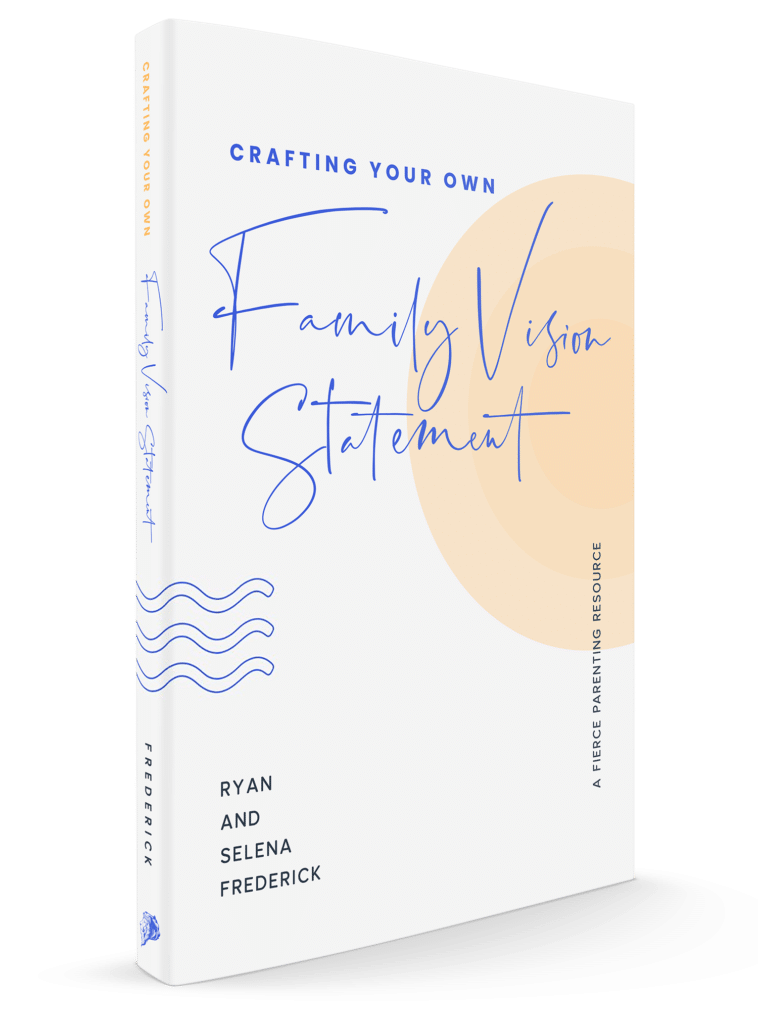 Enter your info below and we'll email you a copy of our ebook, Crafting Your Own Family Vision Statement for FREE. It will be delivered to your inbox immediately.
We'll never sell your email address. Unsubscribe anytime.